Anne Hegerty teases new details about The Chase's spin-off show Beat The Chasers
Publish Date

Wednesday, 27 May 2020, 10:46AM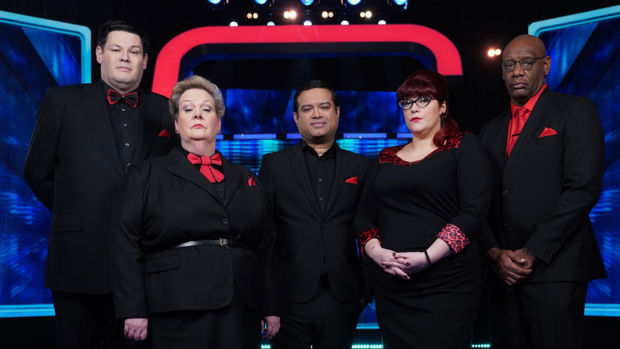 Anne Hegerty has some exciting news for fans of The Chase ...
Following the success of the much-loved series' new spin-off show, Beat The Chasers, the Governess has revealed ITV is looking to film more episodes.
The five-part series - which sees Hegerty, Mark 'The Beast' Labbett, Paul 'The Sinnerman' Sinha, Shaun 'The Dark Destroyer' Wallace and Jenny 'The Vixen' Ryan all unite - made its debut last month to "tremendous" ratings.
Speaking to Radio Times, the 61-year-old said: "We're definitely looking to do more as soon as we can.
"We knew when we were filming it that this was a really good show, we were saying to each other, 'This is really exciting, we are having such close finishes,'" she continued.
"We thought it would go down well but the ratings were just tremendous. I'm very glad that we got that under our belts before lockdown began – we filmed in late January and early February so it's brilliant we got it in."
For the weeklong special, contestants are called down from the studio audience to take part in a Cash Builder round, where they'll face five multiple-choice questions to win up to £5,000.
But there's a catch; if they answer the first question wrong, they're out and their time on the show is over.
READ MORE:
• Bradley Walsh left confused after The Chase contestant hilariously rushes off set
• The Chase's Mark "The Beast" Labbett storms off set and hits the wall after losing his game
The hopefuls will then face off against the chasers, deciding between various offers, such as facing fewer chasers for less money and vice versa.
Previously speaking out about the new show, Bradley said: "The contestants are brave facing one Chaser, let alone all five. With that group of top quizzing brains working as a team, it's going to take some beating. But I can't wait to see who's going to take them on."
While Michael Kelpie, Managing Director of production company Potato, said: "For quiz fans, this is the equivalent of competing in the Olympics or playing in an FA Cup Final. It's the ultimate challenge against the greatest quiz team ever assembled.
"In this brand-new format, anyone who thinks they're clever enough can take on the nation's favourite quizzers."
We're still crossing our fingers it comes to New Zealand television screens too!