Captain Sir Tom Moore passes away at the age of 100
Publish Date

Wednesday, 3 February 2021, 8:56AM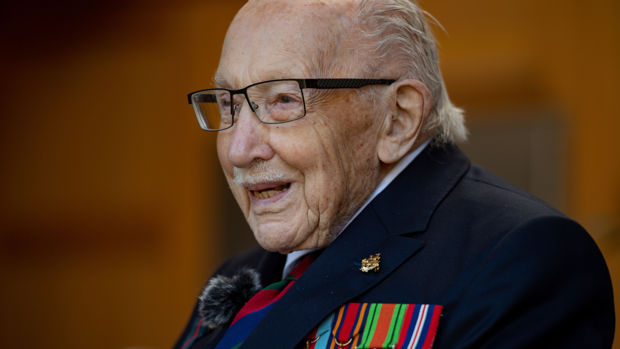 After an incredible year raising millions for charity and receiving a knighthood from the Queen, Captain Sir Thomas Moore has sadly passed away.
The beloved WWII veteran - who raised over £32million for the NHS by walking laps of his garden – died at the age of 100 after a battle with Covid and pneumonia.
Moore, who was made an honorary colonel on his 100th birthday, was admitted to Bedford Hospital on Sunday having been treated for "a few weeks" for pneumonia at home. He reportedly contracted coronavirus some time in mid-January.
Because of the medication he was on for pneumonia, it was not possible for him to receive a Covid jab.
On Monday night, his family gathered at his bedside.
In a statement, his daughters Hannah and Lucy said: "It is with great sadness that we announce the death of our dear father, Captain Sir Tom Moore.
"We are so grateful that we were with him during the last hours of his life; Hannah, Benjie and Georgia by his bedside and Lucy on FaceTime. We spent hours chatting to him, reminiscing about our childhood and our wonderful mother. We shared laughter and tears together.
"The last year of our father's life was nothing short of remarkable. He was rejuvenated and experienced things he'd only ever dreamed of."
READ MORE:
• 99-year-old WWII veteran releases cover of 'You'll Never Walk Alone' after walking laps of garden
• Elton John pays heartfelt tribute to WWII veteran Captain Tom Moore after he raised over £26million

Moore set out on his epic charity mission last year on April 8, setting himself the target to walk 25 metres around his garden 100 times before his 100th birthday.
He beat this target by April 16 and his modest target of raising £1,000 was smashed. He now holds the Guinness World Record for "most money raised by charity walk (individual)."
He also released a charity single, 'You'll Never Walk Alone,' with singer Michael Ball, which reached number one in the charts, making him the oldest artist ever to have a UK number one single.
Moore was made a Knight by the Queen in the sun-soaked gardens of Windsor Castle in July, after being personally recommended by British Prime Minister Boris Johnson for the knighthood.
Johnson hailed the war veteran as a national treasure and a "beacon of light" during the current coronavirus pandemic.