Former All Black star Frank Bunce opens up about becoming a dad again at 58
Publish Date

Friday, 6 November 2020, 9:28AM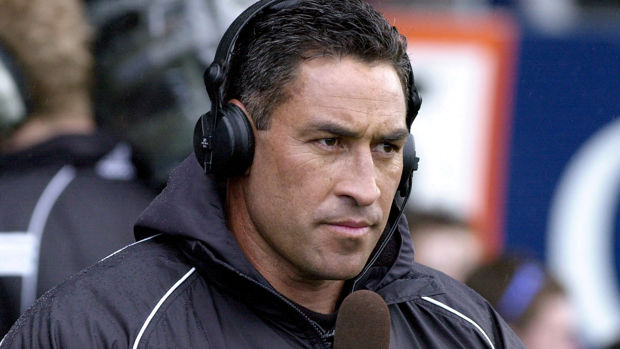 Frank Bunce has opened up about becoming a dad at the age of 58 in a new exclusive interview with Woman's Day.
The former All Black welcomed daughter Tillie with his wife, Jessica Worchel, in December last year.
Frank - who met Jess in Hawaii five years ago, where he was training rugby coaches - has admitted he never expected to become a dad again, but felt his wife deserved to be a mum.
The father of six and grandfather of six said: "When you get to my age, you don't plan to have another child.
"But it is lovely. I love having kids around. I am not finding it hard at all. Getting up in the middle of the night to feed her and play with her – everything that goes with a baby, I enjoy it.
"It's the same with Tillie as my grandchildren. I love watching them go through each stage."
Before joking: "Why am I doing this to myself? I raised strong, independent women, I married a strong, independent woman, and now Tillie is getting stubborn, learning what she wants and what she doesn't want. My girls will keep me young."
While Jess explained to the publication: "I desperately wanted children – my heart wanted them – but my head thought it was a little bit scary out there to be raising kids.
"But Frank always said from the beginning, 'You need to be a mum.' He was open to it, even though he had his own kids already. He really encouraged me."
Unfortunately, Covid-19 has prevented 39-year-old Jess from introducing her daughter to her family in the US and finding work has also been difficult, but they try to see the lighter side of life and smile wryly when people mistake their age difference for other family dynamics.
The couple revealed Tillie often gets mistaken for being his granddaughter.
Frank proposed to Jess on her second trip to New Zealand, while sitting at a quintessentially Kiwi pub in Puhoi.
They married in October 2018 and Jess moved to Aotearoa the following month.
Frank is also dad to Josh, 11, and Victoria, 13, who live with their mum in Cambridge, and adult children Jordan, 26, Samantha, 29, who has four kids of her own, and Chance, 34, a dad to 9-month-old twin sons.
"That show Modern Family – that's us!" Frank joked.