Michael Bublé's wife hits out at fans after they accused the singer of abusive behaviour
Publish Date

Friday, 17 April 2020, 3:28PM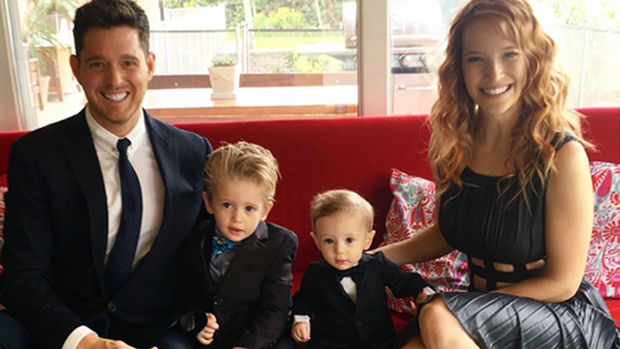 Like the rest of us, Michael Bublé has been isolating at his Vancouver home with his wife Luisana Lopilato and their three children; Noah, Elias and Vida.
In an attempt to bring some happiness to his fans, the Canadian crooner and his wife have been releasing daily videos detailing aspects of their home life whilst on lockdown.
However, unfortunately, one video caught fans attention for all the wrong reasons.
Fans have accused the 44-year-old 'Haven't Met You Yet' singer of abusive behaviour towards Luisana after he was seen "forcefully grabbing" her when she talked over him.
After being urged to call time on her marriage to Michael by a host of fans, the Argentinian actress hit back with a statement posted on Instagram.
She wrote in Spanish, which was translated to: "It's incredible how some human beings act!
"And during a time where we're all navigating through a pandemic, living with moments of lockdown, anxiety, fear, loneliness, uncertainty of all kinds!
"We get together every day with my husband to stream live and bring a bit of joy, entertainment and hope, and we have to deal with hearing and seeing from ill-intentioned people who come out saying things about our family without knowing anything about us.
READ MORE:
• Michael Bublé's daughter makes rare appearance on live stream giving fans their first look at the tot
• Michael Bublé serenades fan who was unable to attend concert via video call live on stage
"After all the pain that we have experienced, I want you all to know that I have no doubts about who my husband is and that I would choose him again a thousand times over!" she wrote.
"It's not fair! This person is causing harm and taking advantage of this pandemic where people are suffering, dying and under quarantine, to gain fame and followers.
"They are sharing lies and that I will not allow because they are disrespecting my family, so I ask all of you who have trusted me for years to not allow this either!
"I leave the consequences up to God now, with no need to add more and doing what I think is right when someone messes with my family," she continued.
"The world needs love, hope, morals, unity and solidarity now more than ever. NOT those types of people."
Representatives for Michael also added: "There will be no further commenting on this ridiculous allegation. All anyone needs to do is see them together on Facebook Live every day. They are equal and loving partners and treat each other with the greatest respect. They are a beautiful couple."