Netflix finally releases first-look teaser trailer for season four of Netflix's 'Virgin River'
Publish Date

Monday, 27 June 2022, 1:55PM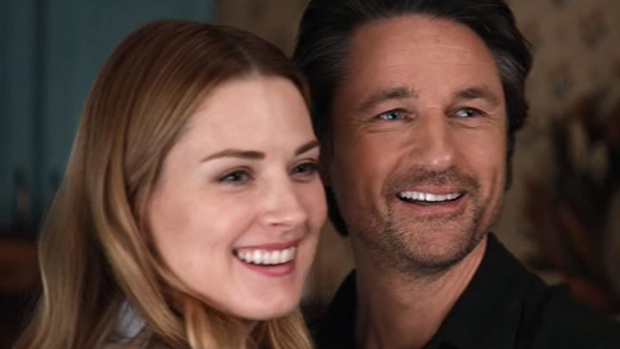 Virgin River fans have been eagerly awaiting the show's fourth season, and while Netflix is yet to officially release a full-length trailer for the new episodes, a short teaser clip has been shared!
After season three's major cliffhanger, fans have been desperate to know the true identity of Mel Monroe's (Alexandra Breckenridge) unborn child's father in the romantic drama – based on the best-selling book series by Robyn Carter.
In the teaser, a heavily pregnant Mel can be seen discussing baby names with her beau Jack Sheridan (Martin Henderson) before they find themselves interrupted by a surprising visitor.
"We're having a baby," Mel gushes before she begins suggesting baby names: "I like the name Indiana, or we could name him after you?"
However, things take a strange turn when she then adds: "We also have to consider Mark."
Her late ex Mark Monroe (Daniel Gillies) then leaves Jack stunned by walking up to the couple.
"Hey sweetheart," he greets her before the two share a kiss.
The synopsis for the new season reads: "Despite not knowing whether her baby belongs to her deceased husband, Mark, or Jack, Mel begins Season 4 with a sense of optimism. For years she yearned to be a mother and her dream is one step closer to reality."
"While Jack is supportive and excited, the question of paternity continues to gnaw at him," it continues.
"Complicating matters is the arrival of a handsome new doctor, who's in the market to start a family of his own."
The first, second and third seasons of Virgin River are available to stream on Netflix now and we can't wait for the fourth season's release on Wednesday 20 July.