Phil Collins recalls the time he hilariously got pranked by George Harrison
Publish Date

Wednesday, 17 February 2021, 10:11AM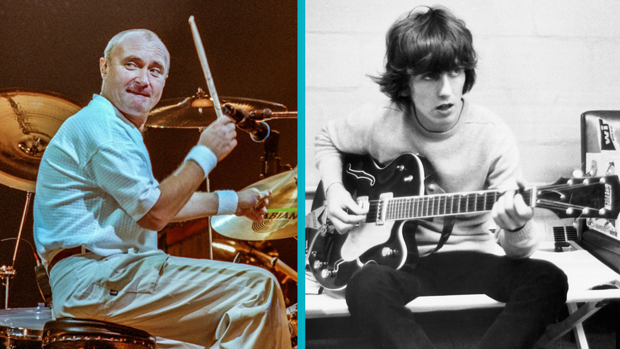 You'd struggle to find two bigger names in music than Phil Collins and George Harrison, but it appears things weren't always smooth sailing between the two.. or at least there was plenty of humour.
Phil recalls the time he was 'fired' by George, after offering his services to help on his album All Things Must Pass.
At the time, Collins was apart of the late '60s band 'Flaming Youth' when their manager got a call looking for a percussionist. Naturally, Collins put his name forward even though he wasn't the most experienced. 
"So I went down to Abbey Road and Harrison was there and Ringo and Billy Preston and Klaus Voormann and Phil Spector, and we started routining the song," Collins recalled in an interview with Classic Rock.
"Phil Spector would say: 'Let's hear guitar and drums,' or 'Let's hear bass and drums'. And I'm not a conga player, so my hands are starting to bleed.
WATCH MORE:
• Phil Collins reunites with Genesis' Mike Rutherford for awesome rendition of 'Follow You Follow Me'
"And I'm cadging cigarettes off Ringo – I don't even smoke, I just felt nervous."
Despite Collins' two hours of toil, it all seemed to be in vein when Spector asked for the congas to be played and everyone realised Collins' microphone was turned off for the entire session.
"And just after that they all disappeared – someone said they were watching TV or something – and I was told I could go," Collins added.
"A few months later I buy the album from my local record shop, look at the sleeve notes and I'm not there. And I'm thinking: 'There must be some mistake!' But it's a different version of the song, and I'm not on it."
And just when you think it couldn't get worse for Collins – it does.
Years later when Collins bought former F1 driver Jackie Stewart's house, it transpired that Jackie and George were friends.
"Jackie told me George was remixing All Things Must Pass," Collins continued. "And he said: 'You were on it, weren't you?' And I said: 'Well I was there'.
"Two days later a tape's delivered from George Harrison with a note saying: 'Could this be you?'"
Collins listened to the tapes and instantly recognised what he was hearing.
"Suddenly the congas come in – too loud and just awful," he said. "And at the end of the tape you hear George Harrison saying: 'Hey, Phil, can we try another without the conga player?'
"So now I know, they didn't go off to watch TV, they went somewhere and said: 'Get rid of him,' cos I was playing so badly."
But all was not as it seemed. Not long after Collins found himself on the phone to Harrison – thanks to their mutual friend Jackie – who was keen to hear if the tape had arrived.
"'Did you get the tape?' And I said: 'I now realise I was fired by a Beatle.'
"And he says: 'Don't worry, it was a piss-take. I got Ray Cooper to play really badly and we dubbed it on. Thought you'd like it!"
"I said: 'You f***ing b*stard!'"