Publish Date

Thursday, 12 May 2016, 11:37AM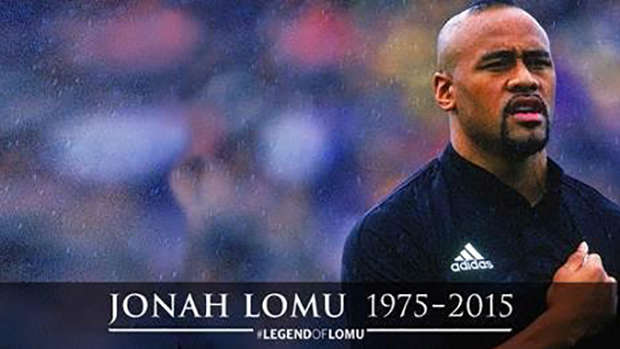 All Blacks legend Jonah Lomu would have turned 41 today. In tribute to our favourite rugby player, we're sharing 15 facts about his incredible life and achievements you might not know...
Jonah Lomu was born on May 12, 1975 in Auckland, New Zealand as Jonah Tali Lomu.
Lomu represented New Zealand in the national under-19 side in 1993, as well as the under-21 side the following year.
At the age of 19 years and 45 days, Lomu became the youngest All Black test player as he debuted on the wing against France in 1994, breaking a record that had been held by Edgar Wrigley since 1905. He came away with 63 caps in total.
Lomu was the Top Player in the 1995 RWC & was one of the Rugby World Cup all-time top try scorers with 15 tries.
Jonah turned down a multi-million dollar offer to play American football.
Jonah is a giant New Zealand rugby player regarded as one of the world's best players ever. Bizarrely, Jonah plays as a winger - a position usually occupied by the lightest and smallest players. On his best form, it can take 4 or more players to bring Jonah down.
At the 1998 Commonwealth Games in Kuala Lumpur, he won a gold medal representing New Zealand in the Sevens Rugby event.
Jonah has a wax likeness of himself at Madame Tussauds in London.
He was offered the role of the villain Gabor in the James Bond movie The World Is Not Enough (1999), however, he declined in order to concentrate fully on his rugby career. The role was then given to former Gladiator John Seru (a.k.a. 'Vulcan').
Has the number 11 - which is his famous playing number - tattooed on his chest.
Jonah was inducted into the International Rugby Hall of Fame on 9 October 2007 & then the IRB Hall of Fame on 24 October 2011.
Lomu also led the New Zealand Sevens team to victory at the 2001 Sevens World Cup, filling in for Rush, who suffered a broken leg during the competition.
At the end of 1995 Lomu was diagnosed with nephrotic syndrome, a serious kidney disorder. His rugby union career went on hold whilst the disorder was treated. Nonetheless, at the end of July 2004 it was reported that Lomu had undergone a kidney transplant on Tuesday, 28 July, in Auckland, New Zealand. The kidney was in fact donated by Wellington radio presenter Grant Kereama.
In January 2005, Lomu announced his intention to lead a team against Martin Johnson's invitational XV on 4 June 2005, at Twickenham. He scored a try in the first half of the Johnson testimonial, but injured his shoulder in the process and did not return for the second half, dampening an otherwise encouraging first appearance. As it turned out, his injury was more serious than originally thought; he underwent surgery on the shoulder, causing him to miss the 2005 NPC season.
Lomu retired from rugby in 2007.