Son Finds Heartwarming Message His Dad Wrote To Mum Before His Death
Publish Date

Wednesday, 27 April 2016, 10:19AM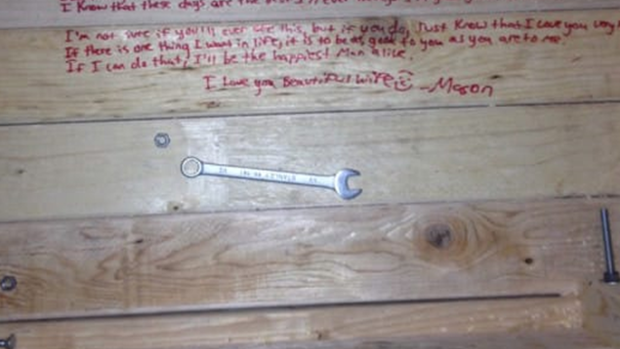 This is heartbreaking...
Earlier this year, a loving father and husband passed away leaving his son and his wife, Becca, behind.
In the months following his untimely death, his son noticed that one of the legs on the bench broke, so he took them off to reinforce and secure them with bolts.
When he flipped over the workbench, he noticed something scribbled on the underside of the bench — two paragraphs handwritten in a red marker. 
What he found, absolutely blew him away. 
An Imgur user posted the heartwarming photo recently, and it's now gone viral:
It reads:
I love you Becca.
Whatever day this is, I hope it's a good one. God truly answered my prayers the day he gave me you. I know that these days are the best I'll ever have, and I'm glad you're in them.
I'm not sure if you'll ever see this, but if you do, just know that I love you very much. If there is one thing want in life, it is to be as good to you as you are to me. If I can do that, I'll be the happiest man alive.
I love you beautiful wife.
– Mason