We love these cheap and unusual but GENUIS cleaning hacks
Publish Date

Friday, 24 February 2017, 8:20AM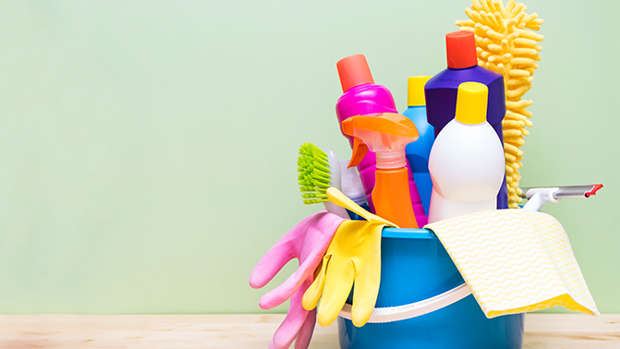 Everybody wants a spotless home but many of us don't want to waste our hard earned money - and time - maintaining it.
But the bizzibeez clean team have put together a list of cleaning hacks they promise are effortless and cheap, reports the Daily Mail.
From using bread to collect broken glass from the floor and vodka on your mattress to ensure it remains clean, these clever hacks promise to save your time and money.
Bread as a broken glass catcher
The experts suggest using bread to pick up broken glass that may have fallen onto the floor or different surfaces.
They recommend getting a piece of bread, preferably from a white loaf, dampening it on one side and then pressing it down on the area.
You'll be surprised how even the tiniest glass fragments will be picked up by the bread.
The onion BBQ cleaner
BBQs are always hard to clean but we love having them in the summer.
To save time and energy, cut an onion in half and use it to clean the grate. It might even add some flavour for the next time you use BBQ.
Vodka to clean mattresses
Vodka is great for cleaning mattresses, according to the professionals. They say that the alcohol present in vodka is key to combating the odor causing bacteria.
All you need to do is mix your preferred essential oil and a little vodka in a spray bottle. Spray lightly on your mattress and leave to air-dry.
Shoe polish on worn leather
Do you have worn out leather furniture but don't want to invest in a new sofa? Shoe polish can really help.
The sprucers say you should use it like you would if you were shining your shoes, but instead apply to any furniture made of leather. Be sure to test on an inconspicuous area first.
Sponge sanitiser
Your kitchen sponge is often considered to be one of the dirtiest cleaning materials found in your home.
To clean your sponge, simply wet and microwave it on high for two minutes. This will kill up to 99 per cent of germs.
Coffee bean air freshener
Some cleaning products are made with chemicals that can leave a strong smell in your home.
If you want to use a more natural, chemical-free cleaning solution, try using the humble coffee bean as an air freshener and fridge deodoriser.
Place the beans in a small cup or any unused container and put it on your kitchen tops, fridge, and in your bathroom.
Lemon and salt on a chopping board
Chopping boards can contain some pretty nasty bacteria if not cleaned properly.
An effective (and affordable) way to clean your chopping board is to scrub it with lemon and salt.
Lemon has a germ fighting pH3 level, which is the same acidity of vinegar and the salt acts as an abrasive.
Easy oven cleaner
Baking soda can be found in most of your kitchen cupboards and it also has powerful cleaning properties.
When it comes to cleaning your oven, mix a half-cup of baking soda with a few tablespoons of water to make a paste-like consistency.
Coat your oven evenly and let it sit overnight and then put a small amount of vinegar in a squirt bottle, spray a little to the baking soda residue and use a cloth to scrape it off.
Cheap dishwasher cleaner
Due to its high acidity level, vinegar is a safe and organic way to clean your dishwasher.

Just put a cup of vinegar on the top shelf and run it on the highest temperature cycle. Sprinkle some baking soda on the bottom and re-run it and you're done!
Baby shampoo on a makeup brush
Baby shampoos are quite mild and so they can be used on your makeup brushes to clean them.
Just remember to be sure to hang them to dry completely.
Dusting a ceiling fan
Dusting ceiling fans can be very messy - and dusty. Bizzibeez suggest a handy tip to trap the dust and stop it from being airborne.
They recommend inserting an old pillowcase over each blade to wipe the dust off.
Another use for your old socks
Floor sweeper refills can often be a little pricey so why not use your old socks that you don't wear anymore?
Try using socks that have microfibre material as they are great for attracting dirt on your ceiling and floors.