The Story Behind This Viral Wedding Photo Will Move You to Tears
Publish Date

Thursday, 17 December 2015, 3:32PM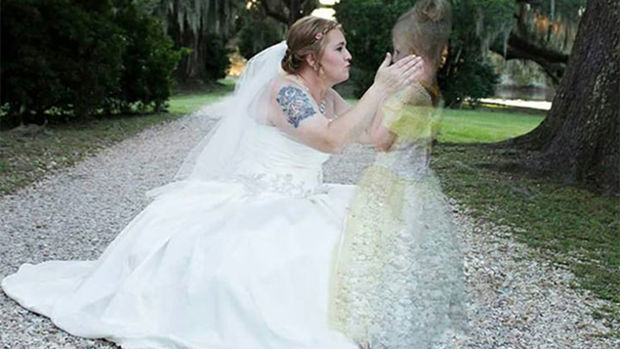 Wedding planning is such a joyous occasion filled with laughter, love, and family, but it can also be heartbreaking when a family member has passed away before the big day.

A wedding picture of a bride, Amanda, holding her arms out to embrace a young transparent girl has recently gone viral after the photographer posted the picture to her Facebook page. The photo's caption revealed that the shadow of a girl was in fact the bride's daughter, Azalee, who had passed away in 2013.

"Azalee's battle with childhood cancer ended 2 years ago...she went to heaven before her mommy met the most wonderful man named Chip," Ashley Frantz, the photographer, posted to her Facebook to accompany the picture. "Heartbroken that her girl wouldn't be here to experience this new journey with her, Amanda asked me to please incorporate Azalee into the pics somehow. This is what I came up with and I couldn't be more pleased."

According to the New York Post, the bride and groom incorporated Azalee into their wedding ceremony as well. The couple released butterflies during the ceremony in memory of Azalee. "As the butterflies flew up and away, one little beauty decided she wanted to stay a while. She landed right on Amanda (closest to her heart) and stayed while a heart-wrenching cry was shared between the bride and groom (and the entire congregation)," Frantz wrote.