Boy writes hilarious critique of his mum's homeschooling skills
Publish Date

Friday, 27 March 2020, 3:55PM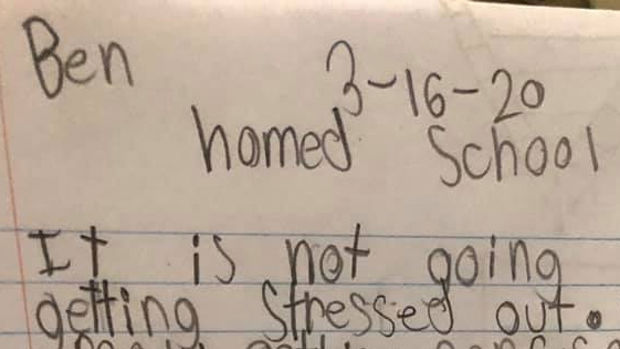 A stay-at-home mum in Kentucky is learning the hard way that homeschooling her kids during the coronavirus pandemic is not going to be easy ...
Candice Hunter Kennedy shared her son's brutal critique of his first day of homeschooling that she found in his journal.
"It is not going good," eight-year-old Ben wrote.
"My mum is getting stressed out. My mum is getting confused. We took a break so my mum can figure this stuff out and I'm telling you it is not going good."
Finding the funny side of the journal entry, Candice posted a picture of the boy's writing on Facebook, and it has since gone viral.
"Y'all I'm dying!!!" she wrote alongside the photo.
"This is Ben's journal entry from Monday about our first "homed school" day.
"That last sentence #WVNTI #imgettinthehangofitnow #maybe #kidsseeeverything #8yearoldcalledmeout."
Too funny!