Kobe Bryant- Bigger than Basketball
Publish Date

Monday, 27 January 2020, 3:16PM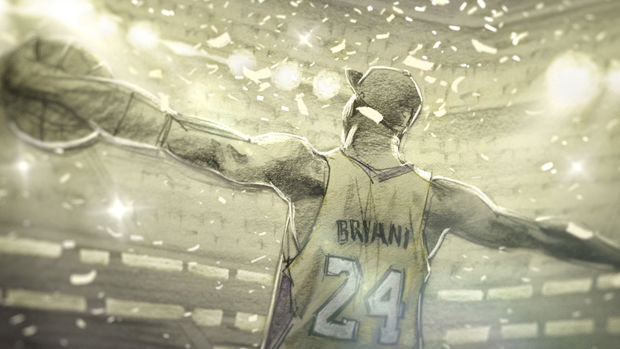 Legendary basketball star Kobe Bryant was killed on Monday in a helicopter crash, a year after adding an Oscar to his heaving trophy cabinet. 
The former NBA star won Best Animated Short for the film 'Dear Basketball' at the 2019 Academy Awards, a six-minute film based on a poem Bryant wrote in 2015 announcing his retirement from the NBA.
Bryant wrote and narrated the short, which sees him explain his love of the sport he played professionally for 20 years. 
When nominated, Bryant shared his surprise on social media.
What?? This is beyond the realm of imagination. It means so much that the @TheAcademy deemed #DearBasketball worthy of contention. Thanks to the genius of @GlenKeanePrd & John Williams for taking my poem to this level. It's an honor to be on this team. #OscarNoms pic.twitter.com/M2joyk9D1V

— Kobe Bryant (@kobebryant) January 23, 2018
Bryant's poem begins: "Dear Basketball, from the moment I started rolling my dad's tube socks, and shooting imaginary game-winning shots in the Great Western Forum, I knew one thing was real: I fell in love with you."
It reflects on how time is running out. "I can't love you obsessively for much longer," it says.
"This season is all I have left to give. My heart can take the pounding, my mind can handle the grind. But my body knows it's time to say goodbye."
It ends by counting down the final five seconds on a game clock.
Bryant had been looking to move into the film and entertainment industry since his retirement from basketball in 2016. 
He also wrote, produced and presented a series for ESPN called Detail, in which he explained the intricacies of the sport. 
Bryant won five championships with the Los Angeles Lakers over 20 years in the game and is widely regarded as one of the best players of all time. 
The 41-year-old was travelling with eight other individuals including his thirteen-year-old daughter Gianna  in his private helicopter when it went down amid foggy conditions in the hills above Calabasas, Los Angeles. Los Angeles County Sheriffs confirmed all passengers and the pilot died in the helicopter crash.
Click here to watch Kobe's incredible Oscar-winning short.