Mel's Decadant Chocolate Self-Saucing Mug Cake Recipe
Publish Date

Friday, 8 May 2020, 4:40PM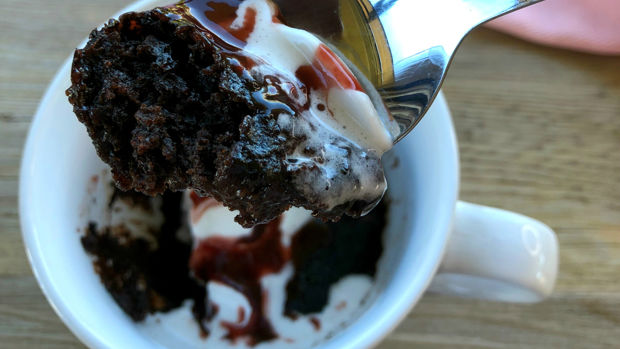 Isolation and lockdown have been pretty tricky, but Mel has an easy idea to make your time at home just a little sweeter. A lot sweeter in fact because this mug cake recipe is gooey, moist and so incredibly lush!
The recipe comes from the blog page 'Just A mum' which is filled with a number of helpful parenting tips and a lot of fantastic recipes. Anna, the curator of the page said, "I almost feel bad about sharing this recipe with you. It could be dangerous knowing that in under 5 minutes you can have a decadent saucy dessert, perfect for those late-night cravings, simply mix together the ingredients, sprinkle over the sauce components and bake for 1 and a half minutes, way too easy!"
So, here's the Recipe! 
Ingredients
3 Tablespoons Plain White Flour
3 Tablespoons Sugar
1 1/2 Tablespoons Cocoa Powder
1/2 teaspoon Baking Powder
3 Tablespoons Milk
2 1/2 Tablespoons Oil (or melted butter)
1/4 teaspoon Vanilla Essence
1 1/2 Tablespoons Brown Sugar
1 teaspoon Cocoa Powder
3 Tablespoons Hot Water
Instructions
In a small bowl add the flour, sugar, 1st measure of cocoa powder and baking powder and stir well.
Add to this the milk, oil and vanilla essence and mix until fully combined
Pour into a microwave-proof oversized mug or dessert bowl (it will rise during baking)
Sprinkle over the brown sugar and second measure of cocoa powder
Carefully pour over the hot water
Cook in the microwave for 1 and a 1/2 minutes, remove carefully once cooked
Serve warm with ice cream, cream, custard or a delicious dessert sauce!
Handy Tip: Use an oversized mug or dessert bowl as it will rise and could overflow during cooking!
Click HERE to see the Full Recipe and To check out the 'Just a Mum' Website.