Oprah Winfrey dramatically faceplants on stage while ironically talking about balance
Publish Date

Tuesday, 3 March 2020, 9:42AM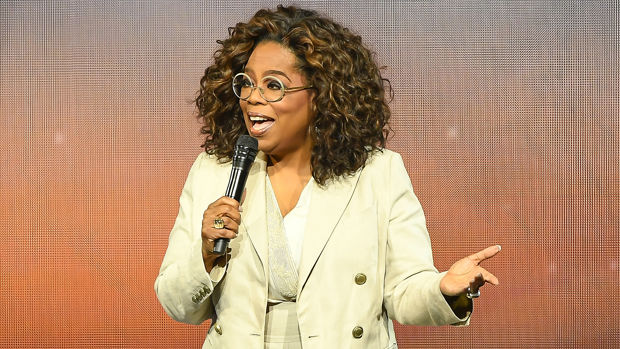 It was a scene that could have easily been lifted from an Alanis Morissette lyric; Oprah Winfrey 'ironically' talking about balance when she lost her own during the latest sold-out stop of her national tour.
The media mogul - who has been trekking across America for her 2020 Vision: Your Life in Focus tour - experienced the onstage mishap in front of a packed audience at The Forum in Los Angeles over the weekend.
"Balance doesn't mean all things are equal or at peace at all times," she said, before tripping over her feet and crashing to the ground.
Footage from the event shows attendees in the arena gasping as the beloved talk show host hit the floor, breaking the fall with her hands.
However, she was quickly able to sit up straight and joked: "Wrong shoes."
The irony of the mishap wasn't lost on her.
"Thank you," the 66-year-old said, as she resumed the show barefoot.
"It's nice to be talking about balance and fall."
READ MORE:
• Oprah Winfrey has voiced her thoughts on Harry and Meghan's decision
• 10 things you didn't know about Oprah Winfrey
Winfrey is now at home recovering from the brutal fall.
Taking to social media, she shared a photo of herself sitting in her home reading a newspaper.
She captioned the post: "Sunday Reading and icing. Thank you all for your kind wishes. Yes I slipped on stage and I'm now a meme. But so grateful to be only a little sore. Turning the day into what @michelleobama calls #selfcareSunday."
We're glad she didn't suffer more serious injuries!