Two news reporters have a fight live on air!
Publish Date

Thursday, 5 March 2020, 3:43PM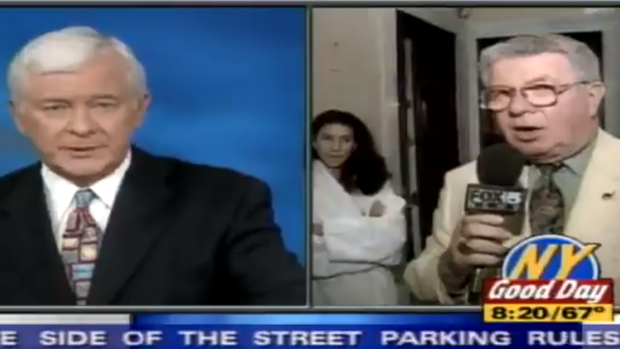 Matt Lucas, the star of Little Britain, has posted a hilarious video of two news reporters having a fight live on television with the simple caption, 'Good Morning'.
The video has sent fans spiralling, with many wondering where the video came from and how they had never seen it before! 
The on-air fight was between news reporters, Jim Ryan and Dick Oliver on Fox 5's Good Day New York on July 19, 2001. 
Oliver was interviewing a manager for the building when a bathrobe-clad female tenant walked into the interview. The tenant said not enough had been done to fix the elevator problem.
When Oliver was told in his earpiece to cut the interview short, he threw the telecast back to Ryan in the "GDNY" studio.
Here's a blow-by-blow of what happened next as viewers watched a split-screen – one side showing Ryan, the other side showing Oliver:
Oliver: "Back to you, Jim."
Ryan: "Wait, does she have a response to that? Is [the lady in the bathrobe] still there?"
Oliver: "What's that?"
Ryan: "Did the lady just leave?"
Oliver: "Yeah."
Ryan: "Oh, that's too bad, we should've kept that discussion [going] . . . "
Oliver: "She's back if you want her."
Ryan: "Yes, yes."
Oliver: "What would you like to know?"
Ryan: "I would like to know a response to what the gentleman said, the gentleman's a very effective spokesperson for the company, but obviously the people who live there are not satisifed with his explanation."
Oliver: "Right, so what do you want now?"
Ryan: "Well, if I have to teach you how to become a reporter Ollie, I'll do that later."
Oliver: "Why don't you do that later, Jim . . . I think the lady expressed herself . . . and you're not here, you're there. Is there any question you'd like me to ask her? "
Ryan: "No. I'll give you lessons on how to become a reporter later, Ollie."
Oliver: "I'll give you lessons on how to become an editor because I was your boss once."
Ryan: "Yeah, you were, and are no longer. How did that happen?"
The ultimate burn! The quickest way to lose an argument is to say the sentence "I was your boss once". Big mistake Jim, Big Mistake.