Chocolate block versions of your favourite Arnott's biscuits are now available in New Zealand
Publish Date

Thursday, 23 January 2020, 4:20PM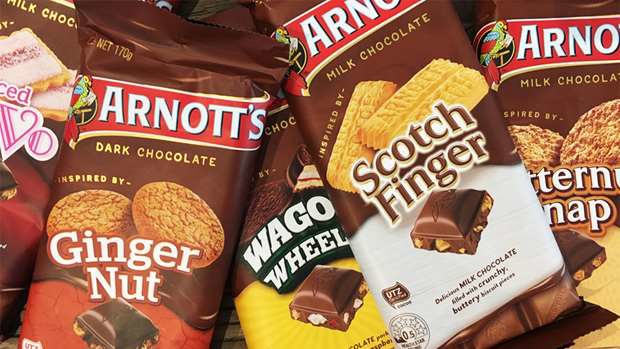 Ever bit into a Ginger Nut or a Wagon Wheel and thought: "hmm, if only this tasty biscuit was encased in a chocolate block!"
Well, now you're in luck because Arnott's chocolate blocks are now available in New Zealand!
That's right, you can munch on chocy-block versions of Scotch Finger, Wagon Wheels, Iced VoVo, Ginger Nut, and Butternut Snaps.
Yummmmmm!

Scotch Finger and Butter Snaps will be backed into your classic milk chocolate block, while Wagon Wheel blocks will feature raspberry lollies and marshmallows.
Iced Vovo will also be blended with milk chocolate along with pink fondant pieces, coconut and raspberry jellies.
And as for Ginger Nuts, they will be mixed with decadent dark chocolate.
"There's no denying the love Kiwis have for biscuits, or their passion for deliciously crafted chocolate, Arnott's Brand Manager Michelle Kitchen, says about the new creations. "We have combined the two to give people the best of both worlds and an entirely new way to enjoy Arnott's!
"We've handpicked some Arnott's favourites, as well as new flavours for New Zealanders to sink their teeth in."
If you can't wait to try them, you don't have to wait long! In fact, the tasty 170g blocks hit supermarket shelves across the country today for a limited time only.
Be right back, just going to go stock up!