Dog's owner turns his post surgery cone into hilariously adorable costumes
Publish Date

Monday, 29 April 2019, 4:05PM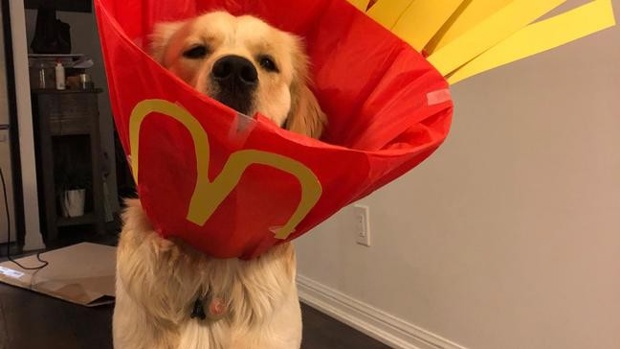 They're usually called the "cone of shame", but this Golden Retriever's owner has turned his into the cone of FAME!
After Gus was recently neutered, he was given the Elizabethan collar to stop him from picking at his wound.
So, of course, his owner and her roommate decided to have some fun with the cone, transforming it into various adorable costumes.
From McDonald's fries and a space rocket to the Pixar lamp and a basketball hoop; Kaitlyn Cotter's creations will put the biggest smile on your face!
"It started with just sharing on my Facebook and Instagram, several people reached out or commented on how happy his costumes made them," Cotter said.
"A lot of people were waiting to see what Gus would be dressed up as next and said seeing him was the highlight of their day."