This recipe combines Lava cakes and Cadbury Creme Eggs to make the ULTIMATE Easter treat!
Publish Date

Sunday, 10 April 2022, 9:33AM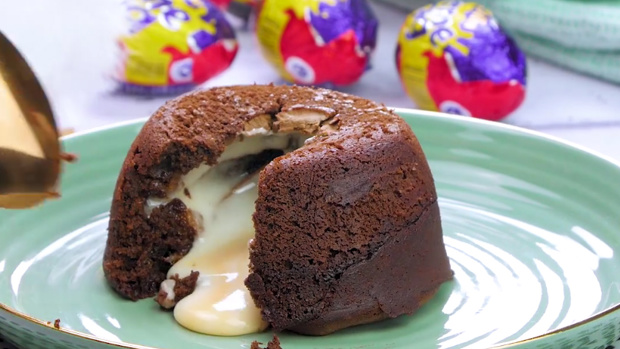 Allow us to introduce you to Creme Egg chocolate fondants.
Yes, the geniuses at Good Housekeeping have come up with the best Easter dessert ever!
Lava cakes.
Mixed with Creme Eggs.
The recipe combines butter with dark chocolate, eggs, caster sugar, plain flour and cocoa powder, as well as four Cadbury Creme Eggs.
It's then baked in the oven for long enough to create a solid chocolate cake with a glorious liquid fondant centre.
Not only is it satisfying to watch - it's even more delicious to eat!
Because what's not to love about delicious Creme Eggs oozing out of a cake?

Ingredients:
100g unsalted butter, plus extra for greasing
Cocoa powder, to dust
125g 70% dark chocolate, chopped
2 medium eggs
2 medium egg yolks
40g caster sugar
40g plain flour
4 Cadbury Creme Eggs
Method:
Preheat oven to 200°C.
Grease four x 175ml ramekins generously.
Put a teaspoon of cocoa powder in each mould, then turn it to coat the inside completely; tap out excess.
Melt chocolate and butter together in a heatproof bowl set over a pan of barely simmering water.
Leave to cool for 5 minutes.
Put the whole eggs, egg yolks and caster sugar into a large bowl and whisk until moussey and thick.
Gently fold sifted flour into the mixture.
Next, fold in the cooled chocolate mixture.
Spoon into the prepared moulds until a third full, then gently lay a Creme Egg sideways onto the chocolate mixture, cover the eggs with the remaining mixture.
Turn down oven to 180°C and bake the puddings for 12-14 minutes or until slightly risen and firm to the touch.
Enjoy!