Sir Paul McCartney has created a new music video for his protest song 'Looking for Changes'
Publish Date

Thursday, 24 October 2019, 2:21PM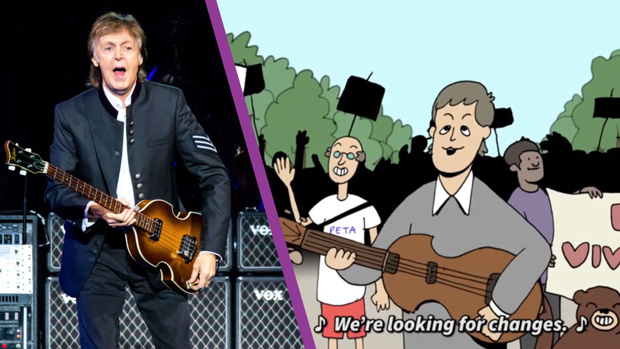 Sir Paul McCartney has teamed up with PETA for a new music video for his 1993 protest song 'Looking For Changes'.
Paul, who is now 77, is a known animal rights activist, and has partnered with the People for the Ethical Treatment of Animals (PETA) organisation to create a new music video to accompany his animal rights protest song, which was first released back in 1993.
In a statement, Paul said: "I'm looking for changes that will continue the momentum of getting animals out of laboratories. Experiments on animals are unethical - they're a colossal failure and a waste of time and money. We can and must do better."
The music video - which is entirely animated - shows scenarios in which lab workers get tricked by the animals they are about to experiment on. 
Cartoon Paul and his furry friends then head over to Capitol Hill to demand government "changes in the way we treat our fellow creatures".
The video was uploaded to PETA's YouTube channel on Wednesday under the title "Paul McCartney Is 'Looking for Changes' to Come for Animals Suffering in Labs".
- Bang! Showbiz