Watch the hilarious moment a kayaker in Kaikōura get slapped with an octopus by a seal
Publish Date

Thursday, 27 September 2018, 9:31AM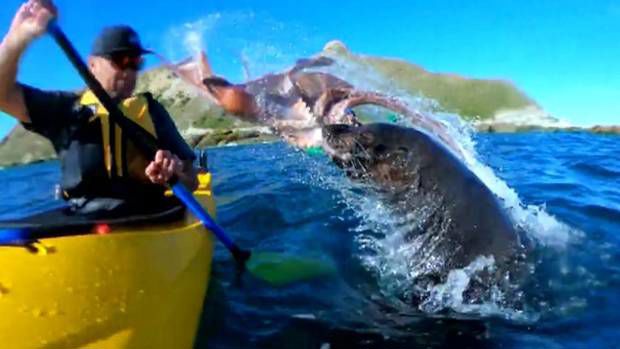 When Kyle Te Iwi set out for a paddle in the waters around Kaikōura, the last thing that he expected was to be hit with an octopus.
Kyle explains how the bizarre event occurred in his post: "After a fun paddle around the peninsula catching waves we spotted a giant male seal fighting an octopus. Before we knew it the fight came to us and well the rest is slap to the face 😂 I'm not sure who got more of a surprise the seal, the octopus or me."
Watch it here:
According to Kyle, the seal held on to the bottom of his kayak for a while after the incident, but their guide managed to coax it away eventually.
READ MORE: 
After the video was posted on Reddit, a biologist commented on the post, explaining the seal's actions: "It was likely just entertaining itself, small chance it was territorial aggression but this looks more like playful harassment."
No one really knows why the seal did it, but the group consensus was that Kyle was simply in the wrong place at the wrong time.