WATCH: The horrifying moment an amusement park ride snaps in half
Publish Date

Wednesday, 17 July 2019, 1:39PM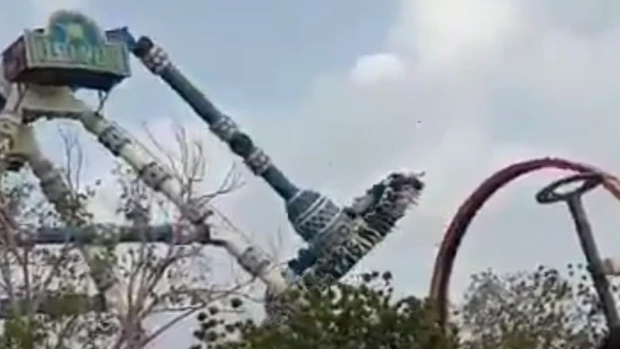 WARNING: Graphic footage.
At least two people were killed and 29 injured when a popular swinging pendulum ride snapped in half at an amusement park on Monday afternoon.
The incident - which was captured on camera - happened at Kankaria Adventure Park in Ahmedabad, India.
In the horrifying video, the Discovery ride can be seen swinging upwards before completely snapping in half, dropping its 31 riders to the ground.
Vijay Nehra, Ahmedabad's Municipal Commissioner, said a criminal investigation has been ordered to determine the cause of the horrific incident.
He said: "Police, along with a forensic team, reached the spot to find out the reasons behind the accident."
The theme park's Director, Ghanshyam Patel, claims that the four-year-old ride was checked regularly.
"All our equipment as well as maintenance certificates, police certification, fire NOC and other documents are in order. We have had continuous inspection and clearance from the authorities for the past four years and we have submitted the same to the police.
"We take all possible care with rides and allow only children above 12 years of age to ride. The ride broke but we cannot say how.
"There are two very strong 20-ton load-bearing ropes inside and we don't know how they snapped. Maybe there was load on the pipe and it broke."