The Sweet Caroline Tour: A Tribute to Neil Diamond
Publish Date

Monday, 22 February 2021, 8:00AM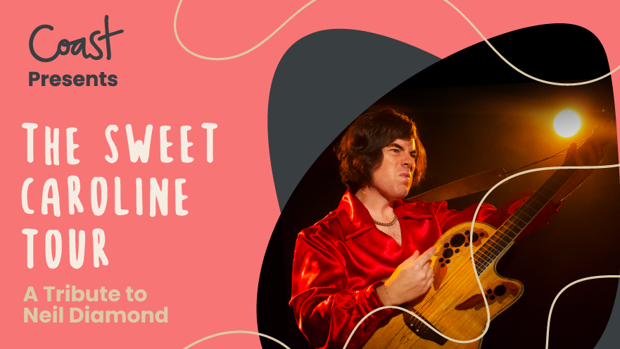 Coast is excited to announce The Sweet Caroline Tour: A Tribute to Neil Diamond tour!
Neil Diamond - the consummate American singer-songwriter whose deep, resounding voice and timeless tunes have made him one of the world's most loved and lauded artists, earning him numerous Top Ten hits, Grammy awards and induction into the Rock and Roll Hall of Fame
Take a step back into the glory days of music and musicianship with this beautiful tribute concert, featuring 'Sweet Caroline', 'Red Red Wine', 'You Don't Bring Me Flowers', 'Both Sides Now', 'Heartlight', 'Forever In Blue Jeans', 'Song Sung Blue', 'Girl You'll Be a Woman Soon' and more.
The tour will put all those well-loved classics back on stage and in the spotlight, showcased by a world-class international band and produced especially for the theatre.
Get all the info on the tour including where to purchase tickets from here: www.showtime.net.au.
The Sweet Caroline Tour: A Tribute to Neil Diamond tour:​
WHANGAREI
Tuesday 11th May, 8pm | Forum North, Rust Ave
Tickets from venue
KERIKERI​
Wednesday 12th May, 8pm | Turner Centre, Bay of Islands
Tickets from venue
THAMES
Thursday 13th May, 8pm | Thames War Memorial Civic Centre
Tickets from venue
TAURANGA
Friday 14th May, 8pm | Baycourt Community and Art Centre
Tickets from TICKETEK
PUTURURU
Saturday 15th May, 8pm | The Plaza, South Waikato
Tickets from venue
TAUPO
Tuesday 18th May, 8pm | Great Lake Centre
Tickets from TICKETEK
NEW PLYMOUTH
Wednesday 19th May, 8pm | TSB Theatre – TSB Showplace
Tickets from TICKETEK
HAWERA
Thursday 20th May, 8pm | Hawera Memorial Theatre
Tickets from venue
PALMERSTON NORTH
Friday 21st May, 8pm | Regent on Broadway
Tickets from TICKETEK
CARTERTON
Saturday 22nd May, 8pm | Carterton Events Centre
Tickets from venue
BLENHEIM
Tuesday 23rd May, 8pm | ASB Theatre Malborough
Tickets from venue

WESTPORT
Thursday 27th May, 8pm | NBS Theatre, Buller
Tickets from venue
GREYMOUTH
Friday 28th May, 7pm | Regent Theatre
Tickets from venue
CHRISTCHURCH
​Saturday 29th May, 8pm | Isaac theatre Royal
Tickets from TICKETEK
INVERCARGILL
Monday 31st May, 8pm | Civic Theatre
Tickets from TICKETEK
GORE
Tuesday 1st June, 8pm | St James Theatre
Tickets from iTicket

OAMARU
Wednesday 2nd June, 8pm | Oamaru Opera House
Tickets from venue
ASHBURTON
Thursday 3rd June, 7.30pm | Ashburton Trust Event Centre
Tickets from venue
NELSON
Friday 4th June, 8pm | Theatre Royal Nelson
Tickets from venue
WHANGANUI
Saturday 5th June, 8pm | Royal Wanganui Opera House
Tickets from TICKETEK
PARAPARAUMU
Tuesday 8th June, 8pm | Southward Theatre, Kapiti Coast
Tickets from TICKETEK
WELLINGTON
Thursday 10th June, 8pm | The Opera House
Tickets from Ticketmaster
HASTINGS
Friday 11th June, 8pm | Toitoi – Hawke's Bay Arts & Events Centre
Tickets from TICKETEK
AUCKLAND
Saturday 12th June, 8pm | SKYCITY Theatre
Tickets from TICKETEK
WHAKATANE
Sunday 13th June, 7pm | Whakatane Little Theatre
Tickets from venue ​